Engage with your customers via email directly from your CRM, with auto capturing engagement timelines and conversation metadata (email content).

Send and Receive Emails
Send sales emails directly from CRM with integrating your mail clients (Outlook, Gmail or Custom SMTP). Kreato auto receives replies and auto-syncs to specific customer records.
Templates and Mail Merging
Personalize and achieve consistency in email communication via pre-written HTML and text templates. Use merge tags to insert personalized or dynamic content into the auto responses or the drip email campaigns.
Email Tracking
Track what happens after you have send the email to the prospect. Kreato provides you with instant alerts when the customer opens your email and clicks links in the email. Gauge customer interest in the sales conversations in real-time and follow-up intelligently.
Inbox Integration
Integrate inbox of email addresses that receives high volume of emails from prospects (such as sales@ address or contact@ address) with Kreato. Emails will be auto received in Kreato, senders of emails will be added as leads and the emails will be associated with respective records in Kreato.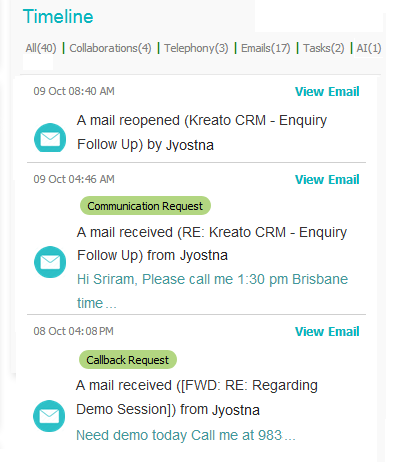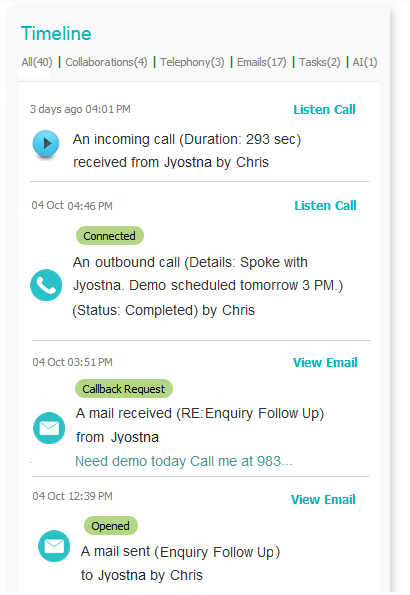 Auto Log Email Conversations
Kreato auto captures all email conversations (both inbound and outbound) on customer's timeline with no manual feed required. Also necessary tools provided to read through email conversations  right from the customer timeline.
Advanced Email Analytics
Learn how your sales emails are performing. Get insights such as email open rate / response rate from your customers and the average email response time of your sales reps. Also gain intelligence on which email templates invokes more customer engagements.