Pipeline AI
Lead Scoring (Profile Fit)
Work only with leads matching your business profile. Based on the past leads, Axlerate automatically filters out the right one that matches with your business profile, thus making your reps to work on only leads that workout.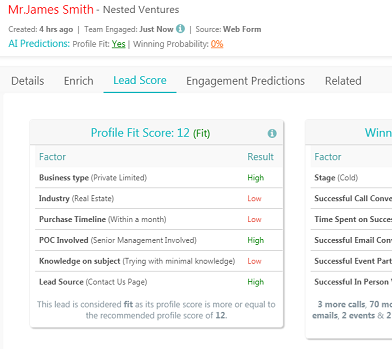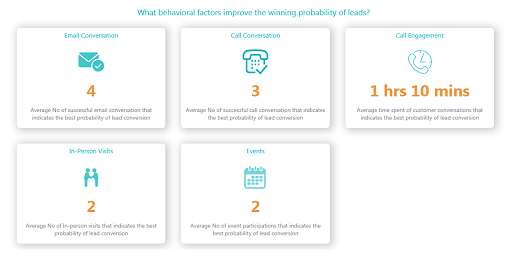 Pipeline AI
Lead Scoring (Winning Probability)
Give priority to leads that are more likely to close. Based on behavioral and engagement patterns matching the past deals, Axlerate helps your reps to prioritize leads that are more probable to convert or close.
Pipeline AI
Pipeline Prescriptions
Proactively get corrective guidance on deals nearing risk zone. Based on the behavioral and best-practice patterns of past won deals, Axlerate detects risky deals and recommends corrective actions to get back them on track.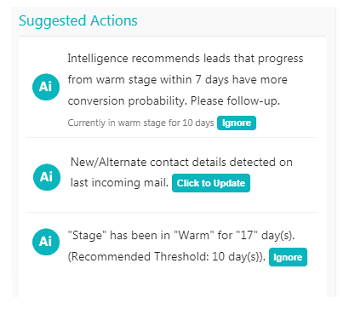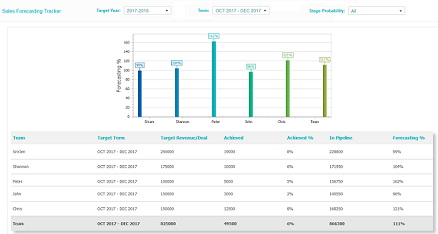 Pipeline AI
Sales Forecast Probability
Arrive at the real probability of sales forecasts derived. Based on the conversion rate of similar past deals and the analysis of profile & behavioral factors, each deal is assigned a conversion probability score and expected closure date by Axlerate, which in-turn helps reps to arrive at the accurate probability of the forecast derived.
Conversational AI
Engagement Recommendations
Reach customers only on the channel and time that workout. Are your reps tired of reaching your customers after multiple calls or emails? No worries. Axlerate keeps learning the engagement patterns of each customer and recommends the engagement channel and time that likelihood to reach without fail.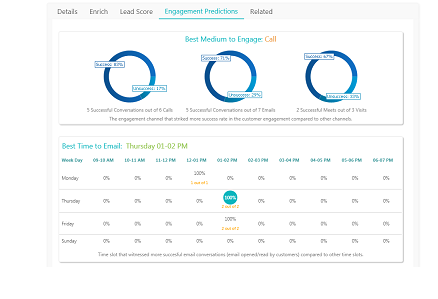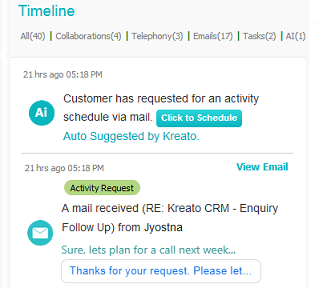 Conversational AI
Email Intent Tagging
Get to know the intention of the sender with no manual analysis. Axlerate utilizes NLP to text-analyze incoming emails to discover the intent of the email such as an activity request, callback or response requested for a query, so that your reps could prioritize emails that need attention even without opening them.
Team Performance AI
Team Performance Insights
Get collective, relative and individual rep productivity across sales cycle. Wanted to know who is performing and who is not? And wanted a drill down analysis of how each individual is performing on customer engagement or activity execution? Team performance Insights has instant answers with team leader boards and benchmarking metrics.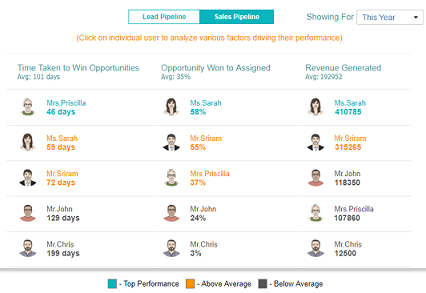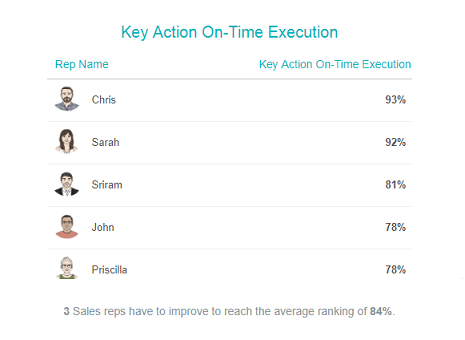 Team Performance AI
Team Performance Coaching
Personalize coaching knowing individual's area of improvement. Are your sales managers complaining of spending endless time on performance analysis? No worries. Axlerate automatically reasons the performance factors that drive the top performers and benchmarking them, pin-points each lagging individual's needed area of improvement.
Pipeline AI
Activity Capture
Evade manual data entries to save effort and time of your reps. All engagements be it an email, call or text message and calendar activities will be auto associated with the specific customer record. And what not, hidden contact details from incoming emails will be auto captured.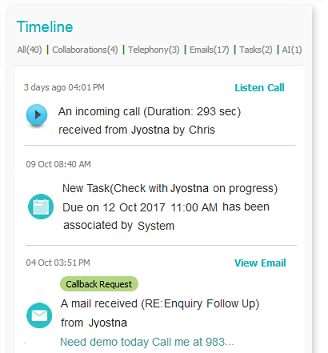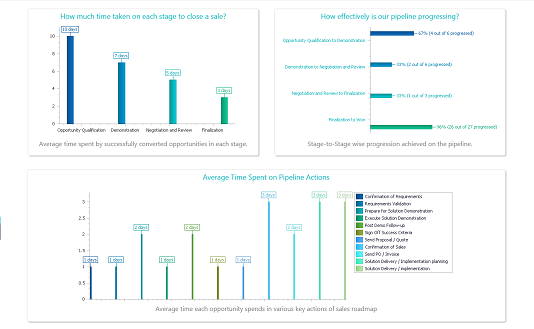 Pipeline AI
Lead & Opportunity Insights
Get access to patterns & trends on leads and opportunities to decide the next best action. With lead & opportunity insights, explore the stage progress, engagement, conversion or closure trends on the whole and see how each of your leads or opportunities is closer to conversion, bottlenecks if any and the recommendations on next engagement and pipeline action.