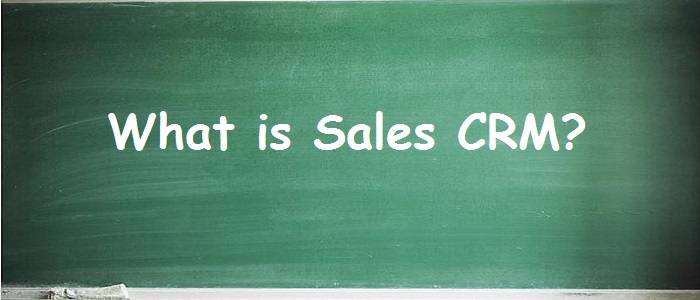 What is Sales CRM?
CRM (Customer Relationship Management) solutions are classified under three facets
Marketing CRM
Sales CRM
Service CRM
Any CRM solution that helps to market a product or service and generate leads, then it is called a Marketing CRM or Marketing Automation tool. And if the solution helps to nurture the generated lead and help sales team to convert those leads to sales, then those solutions are classified as Sales or Salesforce Automation tools.  And finally after sales, if the solutions helps on the customer servicing, then those are labelled as Service CRM tools.
Marketo, Mail Chimp,   Salesforce Marketing Cloud are some of the example tools on Marketing Automation, whereas Salesforce Sales Cloud, Sugar CRM, Microsoft Dynamics for Sales, Kreato, Base CRM are Sales CRM examples. And for Service CRM Zen Desk, Fresh Desk are the example tools.
What Sales CRM covers?
Basically any Sales CRM software will helps sales team on the complete LOC (Lead to Opportunities to Closure) cycle.  Below comes the main features that will be part of Sales CRM tools.
This covers all smart lead management and productivity tools to streamline your lead gathering, distribution, nurturing and conversion of leads.
This will take care of the complete sales pipeline management covering the opportunity tracking till their closure covering pipeline stage movements, email conversations, call engagements, in-person visits, notes and any other pipeline activities performed by the sales reps.
This helps to track and view 360 degree view of accounts and contacts covering their contact details, related deals, engagements & timeline activities.
These engagement tools can facilitate the customer engagement from within CRM itself via all the preferred channels for communications such as email, call and text messaging.
These tools generally helps to automate the redundant and time-intensive manual tasks performed by the sales team on their day to day sales execution.
These tools are the main drivers for sales managers helping to derive accurate revenue forecast and ascertain the goal attainment of sales reps revenue targets.
These reports & dashboards provides the sales leadership team with a drill down analysis on the sales pipeline and team performance which helps to optimize the sales performance of the team.