Empowering Modern-Day Sales Reps
Sales Reps are the people who actively participates in the sales activities, engaging with prospects & customers to bring in new or more sales.  They go through simple to complex decision making process throughout their day whether they work on finding the next lead to target or prioritizing their tasks.
Kreato focuses on the core needs of Sales Reps and empowers them with tools that complement their skills and intelligence that augments their abilities to close more deals.
Always be data driven
Sales Reps have all the data on leads & opportunities centralized and housed in CRM which they can leverage easily to track and close deals.
Sell More & Faster
Kreato automates many of data entry & repetitive admin tasks so Sales Reps can spend more time on selling. And Sales Reps can perform all customer engagements – calls, emails & texting all from within Kreato.
Kreato also helps Sales Reps with Sales Sequence, that defines step-by-step sales activities for closing deals and helps to reduce the length of their sales cycles.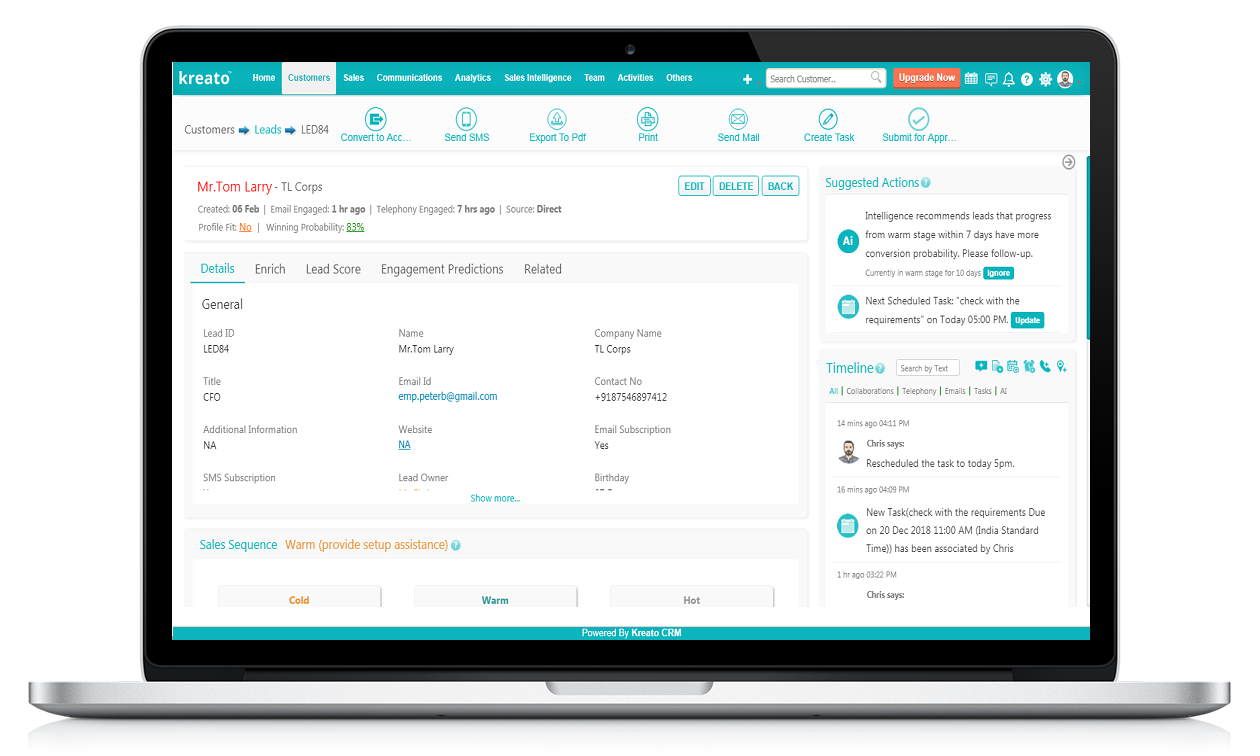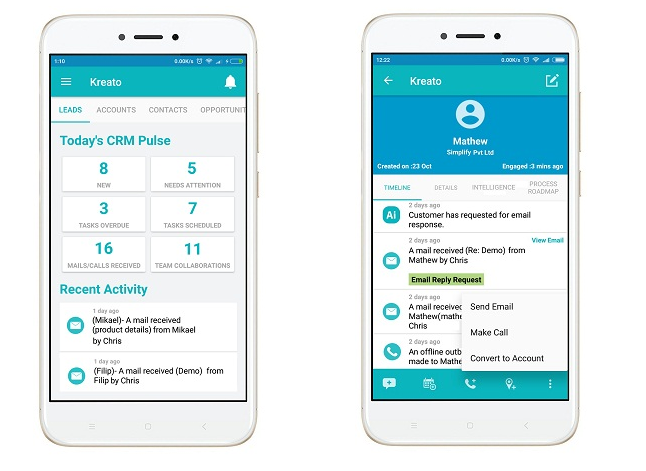 Power of AI for Sales Reps
AI/ML techniques are effectively applied in Kreato to help sales reps in executing daily prospecting activities efficiently, improving engagement efficiency and making intelligent decisions quickly.
Helping to prioritize & focus on potential prospects
As identifying the prospects which are profile fit and has the best probable chance to win involves analyzing multiple factors & patterns, AI can helps with ML backed scoring techniques to do this job for them.
Proactive Alerts with Corrective Prescriptions to be in track
For sales reps it will be difficult to always keep track of signals that impact pipeline performance manually. Instead if AI can help predicting best standards/actions that has probability for high pipeline performance and recommends the sales reps automatically whenever they are out of track, it can translate in enormous sales wins.
Improving Sales Engagement Efficiency
Another area where sales rep usually struggle is for successful customer engagements. This is where AI can help sales rep with recommendations on best channel (Email or Call) and timeline to reach customers based on the historical engagement data, thus helping them to fine-tune their customer reach out strategies.
Also when there is huge volume of incoming emails to go through, sales reps usually miss to respond few important emails which sometime leads to loss of opportunities. If AI with the help of ML backed algorithms supports the text analytics techniques such as sentiment or intent detection, then the customer communications can be auto analyzed and those with high priority can be tagged for immediate attention.