Bala & Co., (Chartered Accountants)
Industry:

Chartered Accountant Firm

Location: Chennai, Tamilnadu
BALA & CO., is a Chartered Accountant Firm. In this new economy, organizations look up to professionals offering a broad range of innovative and cost-effective solutions and BALA & CO, with its wide range of service offerings and capabilities, is fully geared to cater to these requirements.
We spoke with V.Sriram (Partner, Bala & Co.,) to understand how Kreato CRM helps in improving their daily operations.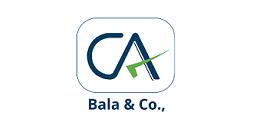 What problems you were looking to solve by using CRM?
Manage the clients as well as all kind of client communications in one place.
Please share your Kreato setup and customization experience?
Mostly we could do it by ourselves. It was very easy with the self-help video tutorials provided inside the product.
How Kreato CRM helps in improving daily operations at Bala and Co?
Kreato  is helping us to manage all our clients data & communications. Now we are able to send reminders to our clients required for business transactions & send mass email communications to clients.
Would you recommend Kreato CRM? And if so, why?
Yes. It is a good software and much cost effective when compared to others. Main advantage is being on the cloud.