Engage with your customers via email and call directly from your CRM, with auto capturing engagement timelines and conversation metadata (email content & call recordings).

Click to Call
No more your sales reps have to shift between CRM and calling platforms or dial-in customer numbers to make sales calls. With cloud telephony integrations such as Twilio, Call your customers instantly from CRM with single button click.
Intelligent Call Routing
Configure pre-set greetings that should be played for calls received. Get incoming calls routed to your sales reps based on sequential, round robin or custom condition based on parameters such as product, service, location or ownership.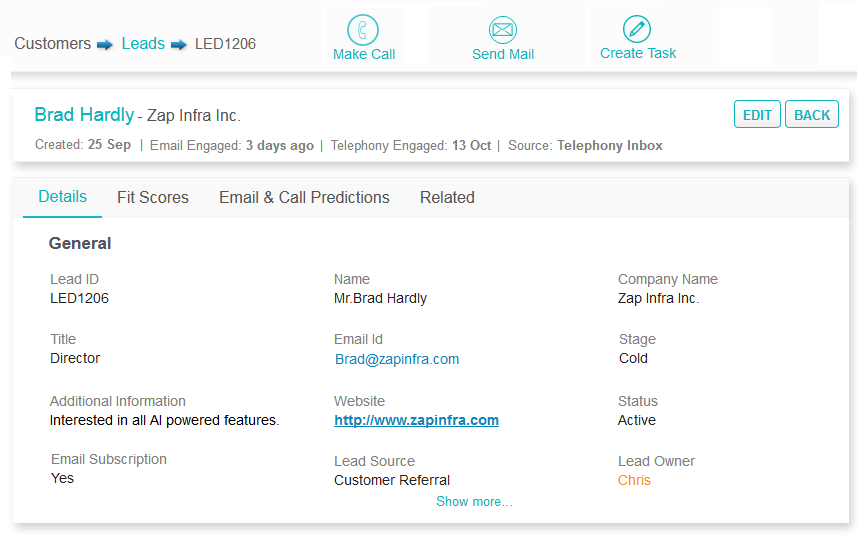 Send and Receive Emails
Send sales emails directly from crm with integrating your mail clients (Outlook, Gmail or Custom SMTP). With auto-syncing received email conversations to specific customer records, view email enquiries or responses received from customers on their timeline.
Templates and Mail Merging
Help your sales reps to personalize and maintain consistency in email communication via pre-written HTML and text templates. Use merge tags to insert personalized or dynamic content into the auto responses or the drip email campaigns that your team send.
Auto Log Communications
Kreato auto captures all email & call conversations (both inbound and outbound) on customer's timeline with no manual feed required. Also necessary tools provided to read through email conversations and listen complete audio recording of call conversations, right from the customer timeline.