Kreato CRM at CII Connect 2014
CHENNAI, December 5, 2014
Navrita Software, the growing Enterprise Software product company based in Chennai, today announced that it participates in CII CONNECT 2014 Conference & Exhibition on Information and Communication Technology (ICT) conducted by CII (Confederation of Indian Industries) to exhibit its Cloud CRM Software – Kreato CRM.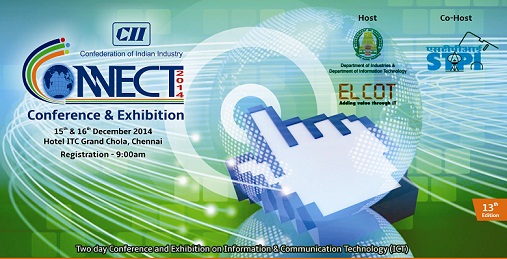 Taking place on  15 – 16
th
Dec 2014 in Chennai at The Grand Chola, this year event is conducted with the theme "Digital Infrastructure : Enabling the world of Tomorrow".
 "We have built Kreato CRM as an innovative, affordable & complete CRM solution to help SMEs in India to accelerate their growth and revenue" said Santhosh Chandrasekhar, COO of Navrita Software. "Participating in CII Connect enables us to showcase Kreato CRM to prospective clients and delegates from various business sectors in India" he added.
Delegates visiting our stand at the event can see the live demonstration of Kreato CRM and register for free trial. Special offers can be availed for on-spot registration during the event.
About CII Connect
Confederation of Indian Industry (CII) has been organizing CONNECT Event in Chennai for the past 12 years. The Connect series has been the forum for Indian ICT Industry to confer & exhibit on latest trends & developments.
Please visit http://www.ciiconnect.in/ for more details.
About Kreato CRM

Kreato CRM is an easy & complete Cloud CRM – Customer Relationship Management solution made in India and made for small & medium businesses in India.
Kreato CRM helps Small and Mid-Sized Businesses – SME to manage customer information, sales, marketing, communications and support all from one software and empowers them to reach more customers, improve customer acquisition, generate more sales, provide better customer service and most importantly manage better customer relations.
For more information, please visit https://www.kreatocrm.com.
Follow Kreato's Product Blog, Kreato's Facebook page and @KreatoCRM Twitter handle for real-time updates.
About Navrita Software
Navrita Software is a growing Enterprise Software product firm based in Chennai – India, envisioned with enabling every SME in India with an innovative, affordable and complete CRM.
For more information about Navrita Software, please visit www.navrita.com.
NOTE: Kreato logo is the registered service mark of Navrita Software. Third-party trademarks mentioned are the property of their respective owners.