Navrita Software adjudged the Best IT / ITES Start-up 2014 at the CII Startupreneurs awards
CHENNAI, October 27, 2014
Navrita Software, the growing product company based in Chennai, today announced that it has been chosen at the CII Startupreneurs awards as Best IT / ITES Start-up 2014 for its innovative Cloud CRM Software – Kreato CRM.
The awards are presented by CII (The Confederation of Indian Industries) during the first edition of CII Startupreneurs Expo which held on November 24, 2014 at The Grand Chola, Chennai.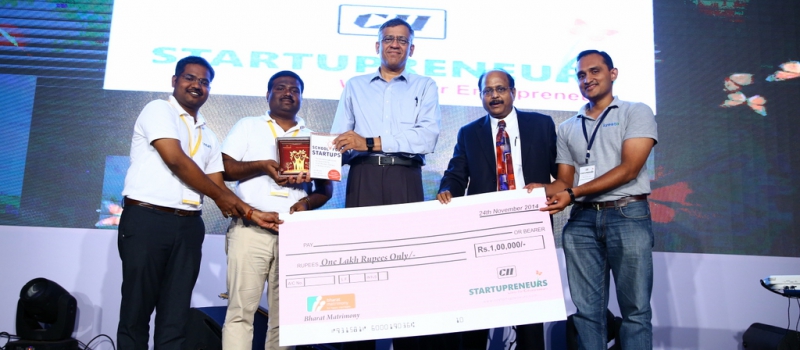 Photo: Navrita Software team receiving award from Mr. Gopal Srinivasan, Chairman and MD of TVS Capital Funds Ltd
Start-ups from various sectors — automobile and auto components, manufacturing and engineering, FMCG/consumer durables, pharmacy and healthcare, IT & ITeS, education and infrastructures participated the Expo. Top performers are selected from each sector and awarded.
Speaking during the awards presentation ceremony, Mr. Sridharan Sivan, past chairman of CII, Chennai Zone who is also the head of the Jury team said " Award winners are selected based on the established criteria – Value proposition to the customers,  market positioning & size, competitive values and proof of concepts".
"It is an honour to be recognized by CII, India's premier business association" said Lokanathan Kutuva, CEO of Navrita Software. "We have worked hard to make Kreato CRM as the innovative and inexpensive cloud CRM solution for small & medium businesses in India, and this award reinforces our commitment to our vision of enabling every SME in India with an affordable and complete CRM solution".
About CII Startupreneurs 2014
CII Startupreneurs Expo is the initiative of "The Confederation of Indian Industry" to promote and nurture start-ups and entrepreneurs. Start-ups and budding entrepreneurs from all sectors are invited to participate and showcase innovative ideas, emerging technologies and new business models.
The advisory committee of CII Startupreneurs consists of Mr Arun Jain, Chairman & Managing Director, Polaris Financial Technology Ltd, Mr Gopal Srinivasan, former Chairman, CII Tamil Nadu & Chairman & Managing Director, TVS Capital Funds Ltd, Mr R Ramraj, Senior Advisor, Sequoia Capital India, Mr Lakshmi Narayanan, Vice Chairman, Cognizant Technology Solutions, Mr Kris Gopalakrishnan, Immediate past president, CII & Executive Vice Chairman, Infosys Ltd, Mr N K Ranganath, Past Chairman, CII Tamil Nadu & Managing Director, Grundfos Pumps India P Ltd.
For more information on CII Startupreneurs 2014, please visit http://www.ciistartupreneurs.com.
About Kreato CRM

Kreato CRM is an easy & complete online CRM – Customer Relationship Management solution provided from India.
Kreato CRM helps Small and Mid-Sized Businesses – SME to reach more customers, improve customer acquisition, generate more sales, provide better customer service and most importantly manage better customer relations.
For more information, please visit https://www.kreatocrm.com.
Follow Kreato's Product Blog, Kreato's Facebook page and @KreatoCRM Twitter handle for real-time updates.
About Navrita Software
Navrita Software is a client-centric global information technology firm based in Chennai – India, envisioned with enabling every small business with an affordable and complete CRM.
For more information about Navrita Software, please visit www.navrita.com.
NOTE: Kreato logo is the registered service mark of Navrita Software. Third-party trademarks mentioned are the property of their respective owners.