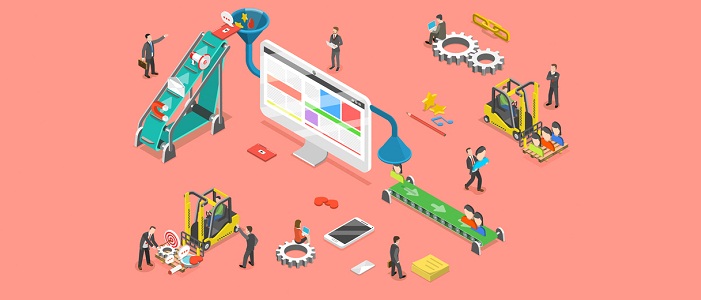 If you are keen to handle every lead/enquiry that your business receive in a streamlined way with well automated responses, regular follow-ups, timely assignment to sales team, then you should a CRM solution that supports the below lead management features.
Auto Lead Capturing
Option to auto capture lead data from your business primary lead sources such as support email box, website enquiry form and the incoming support calls. In addition to this, it will be advantageous if the CRM solution supports to auto capture lead data from landing pages, chat tools, online market places such as IndiaMart and Just Dial.
Auto Lead Distribution
 System to auto-assign received leads/enquiries to the sales team members based either on round-robin mechanism or based on some pre-defined conditional rules. This will reduce the burden of sales managers at large on their day-to-day efforts.
Auto Lead Scoring
 Tools to qualify and identify prospective leads via auto scoring based on pre-defined parameters and rating conditions.
Intelligent Lead Tracking
Tools to track leads & pipeline opportunities in real-time efficiently with options such as custom views, intelligent filters, sorting and quick search options.
Lead Follow-ups
 Support to nurture your prospects with personalized, automated follow-up emails based on time intervals or other parameters. This will help your sales team to be in constant touch with your leads without no efforts.
Lead Notifications
 Option to initiate automated email or SMS notifications to your clients on various lead transactions (i.e while receiving an enquiry, any notes or updates added to the lead record or for any status updates on the enquiry raised). Provision to create and manage set of canned messages ready, so that replying to customers becomes easier and a lot less time consuming.
Team Collaboration 
 Provision for sales team to add and track notes & comments on communication transpired with the lead. Also scope to provide/invite comments from team members for a speedy conversion of business enquiry to a deal.