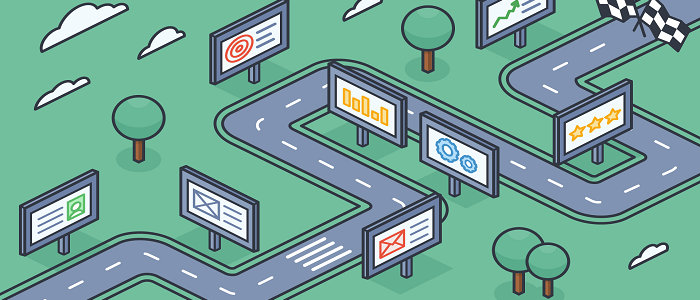 As a sales leader, you will always desire the team to follow right process for every customer and deal. Putting a well-defined process in place will give you the competitive advantage you need to grow your business. It will have a positive effect on win rates, forecast accuracy, and productivity per sales person. But, a sales process is only as effective as the sales people's adoption of it.
What is Process Roadmap?
A Sales Process Roadmap is the uniform playbook for Sales Reps which identifies a logical sequence of activities that are to be consistently performed from discovery to closing. It includes the key activities sales reps must follow to keep deals moving forward.  It provides directions and the process for the Sales Reps to be effective and consistent.
Implementing Process Roadmap in CRM platform is the ideal choice which maximizes its capabilities and adoption.
Let us see how Process Roadmap in CRM works and how it auto drives repeatable sales success.
How Process Roadmap works?
The sales leader who has good knowledge of sales life-cycle followed in the organization has to define the process roadmap in the system. Each stage in the roadmap is defined with set of activities or best practices to be performed in sequence.  Optional activities can be allowed to skip.
Once defined, system takes charge of the Process Roadmap automation. It auto drives team to perform next strategic steps to move the lead or deal successfully to next stage in the sales lifecycle. The system keeps track and auto captures the activity data which is essential to bring out intelligent insights.
For example if the lead is in qualification stage and the sales rep has just completed the first call. The system automatically guides to take up the next step – send mail inviting the customer for product demo.  The sales rep has to just confirm and start performing the activity.
Benefits of Process Roadmap
Process roadmap delivers benefits for the sales team, sales managers and the organization.
Visual display of the roadmap helps to determine quickly where your lead or deal is, activities completed & next steps to do.
Ensures the sales team follows right process for every lead or deal and helps them to win more sales.
Auto drives process adoption which helps the sales managers to focus on critical tasks like improving sales strategies.